Stay Up-To-Date With Everything Real Estate

DECEMBER
2019
Make a List and Check It Twice: Finding Your Dream Home Should Be Fun!
It's no secret that buying a home is one of the biggest decisions in life. But, that doesn't mean that it has to be the most stressful process you go through. And, it certainly doesn't mean you should rush things or settle.
While it's important to have an experienced Realtor behind you, I believe that knowing exactly what you want can also help the process. At the end of the day, finding your dream home should be fun. So, put on your red hat and turn up the Christmas playlist; it's time to play home-shopping Santa!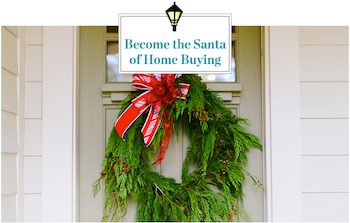 The easiest way to do this is simply by listing out what you want in your new home and prioritizing those desires. So, begin with the features of a new home that you just can't live without. Then, list out nine more features and rank each from most important to least important. Here are examples of what your list could include:
| | |
| --- | --- |
| • | Location/Neighborhood |
| • | School District |
| • | # Bedrooms |
| • | # Bathrooms |
| • | Screened-In Porch |
| • | Lot size |
| • | Appliances |
| • | Countertops |
| • | Bike/Walk Friendly |
| • | Distance from _______ |
| • | Walk-In Closet |
| • | Office |
| • | Master Bedroom on First Floor |
| • | Open Floor Plan |
| • | Large Kitchen with Double Oven |
| • | Tall Ceilings |
(Related Article: The Perks of Selling Your Home During The Holidays)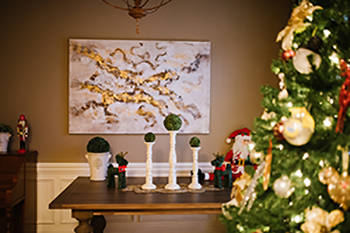 Now that you know your priorities, I'm here to make it even easier to begin the search process with an entire toolbox from Gardner Realtors:
You can have every listing available to you in the palm of your hand with the Gardner Realtors Mobile App. You can also have the most real-time, accurate info for YOUR preferred market with our Local Market Update Videos and Local Market Trends. Finally, use your priority list to narrow down the best options for you via our Advanced Search criteria.
With your Gardner tools and your priority checklist ready, you can accurately and confidently rate each house that you view. Tally up how many check marks each house has and decide what items can you sacrifice to get the ones you truly want.
Don't stress; this is a season of love, and we will find a home for you that you will LOVE. So make your list, check it twice, and you'll see that finding your dream home is fun.
Let's chat today and help you create the life you love!

When do you put up your Christmas tree?
I hope you had a wonderful Thanksgiving, celebrated with family, friends or friends that are like family.

Since it was such a beautiful day, I decided to decorate my fence. Unfortunately, I can't figure out how to upload a photo or maybe we don't have that option, or I would have included a photo. Frankly I thought I was ahead of the game, but as of today my tree is still not up. Oh well---I'll make it a priority and have it up soon---fingers crossed!
Wishing you a blessed December, filled with everything you need it to be.
Happy Holidays, Merry Christmas, Happy Hanukkah, Happy Kwanzaa! And since my newsletter doesn't come out until after the first of the month, I might as well add HAPPY NEW YEAR.
Party on friends!
Donna
Gretna©
1700 Belle Chasse Hwy., A120
Gretna, LA - Louisiana 70056 USA
©2020 GARDNER REALTORS
Licensed in Louisiana
Copyright © 2020 GARDNER, REALTORS. If you have a brokerage relationship with another agency, this is not intended as a solicitation. All information deemed reliable but not guaranteed. Brokerage firm Licensed in Louisiana and Mississippi.